Back To Precious
Sapphire
Sapphire's Physical Properties
Hardness: 9 .

Specific Gravity: 3.95 - 4.10.

Refractive Index: 1.762 - 1.770 .

Chemical Composition: Al2O3, Aluminum Oxide

.

Crystal Structure: Hexagonal.
y Sapphire – word is derived from Greek sappheiros, which means "dark blue". Despite its name this splendid gemstone, however, also comes in many other colours, not only in the transparent greyish misty blue of far horizons, but also displaying the bright fireworks of sunset colours – yellow, pink, orange and purple. The sapphire is considered to be the symbol of power, obedience, fidelity, chastity, and believed to be capable of alleviating pain, averting conflicts, and giving eternal life to its owners.
Its beauty, magnificent colours, its transparency but also its resistance and permanence are characteristics which gemstone lovers and experts assign to this gemstone. They are second in hardness to diamonds only.
We can offer very wide range in different shapes and sizes to suit buyers need.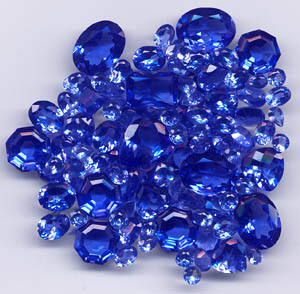 For Trade Enquiry Please Click Here.
Copyright © 2004-2005 @CasaGems.com
Conceptualized, Designed Hosted and Powered by GlobalCyberBiz.com