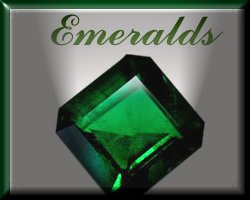 We exquisitely cut and polish all kinds of Emeralds. We have a wide range of Emeralds in different shapes and sizes to suit needs of our valued customers.
| | |
| --- | --- |
| | Pears, Oval and Octagon in 4x3, 5x3, 6x4, 7x5, 8x6 and size ranging from 1 carat and above. |
| | Marquise: 2x4, 2.5x5, 3x6, 3.5x7, 4x8 and bigger sizes. |
| | Rounds and Squares from 1.5 mm and above. |
For Trade Enquiry Please Click Here.
- About Emerald -
The name Emerald was derived from French "esmeraude" which in turn goes back via Latin to the Greek root "smaragdos", meaning simply "green gemstone". Emerald green is the colour of life and of eternally returning spring. For centuries, however, it has also been the colour of beauty and of eternal love. Even in ancient Rome green was the colour dedicated to Venus, goddess of love and beauty
Many centuries ago in the Veda, the ancient sacred writings of Hinduism, there was written down information on the valuable green gemstones and their healing power: "Emeralds promise good luck", or "The Emerald enhances your well-being". It does not come as a surprise, then, that the treasure chests of Indian Maharajas and Maharanis contained most wonderful Emeralds.
Emerald is one of the most difficult gemstones to cut because of the high value of the rough stone and the many inclusions found in crystals. Small changes in orientation can make a large difference in the final appearance of the gem.
Skilled craftsmen who specialize in cutting emerald are employed with us in Jaipur, India. We have perfected Emerald cutting and polishing technique and our craftsmen deliver Emerald with optimum brilliance and vibrancy. We are one of the best known source of cut and polished Emerald in the world gem stone market.
| | |
| --- | --- |
| Footnote: Unlike many other gemstones, emeralds always contain some inclusions with more, less, or no effect on durability and wear. Of particular concern would be any presence of cracks, which can sometimes be dangerous during the process of setting. Therefore, in addition to using the GIA clarity system throughout our website, we are adding specific remarks in the description of a particular stone if it contains cracks that could be of special concern during the setting process. However, even if such remarks are not posted, everyone handling emeralds should be very careful and follow the trade guidelines on handling these gemstones. Note to consumer: Emeralds should never be placed in an ultrasonic cleaner. | |